What to Wear with a Black Leather Jacket – Tips for Men
Posted: 6th November 2017 in Guides
The ageless class of the black leather jacket means that it has never lost its classic appeal. It's enduring popularity means that decades of innovation and redesign have given men almost endless choices when it comes to what to wear with a black leather jacket.
We don't want to tell our customers how to wear their leather jackets, but our experience over the years has equipped us to offer some tips to those of you who might be looking for some inspiration. We'll take you through some of our top picks for different items of clothing that you could wear with your jacket of choice, then finish with some thoughts on overall looks.
Most men's leather jackets can be worn with a range of different outfits, but they work particularly well with smart-casual shirts, jeans or chinos and boots or smarter shoes. These are all clothes that many men will have in their wardrobes anyway, which makes a black leather jacket a great buy for anyone.
Style a leather jacket with casual shirts or plain tshirts
The majority of leather jackets can be complemented nicely by casual shirts and plain, neutral tshirts. Pale blue or white oxford shirts work well with a simple, classically designed jacket like the Mac (below left), giving you a dressed-up look without being over the top. Alternatively, a jacket with a worn, antique look like the Rik (below right) matches very well with casual checked flannel shirts of any colour. An outfit like that is great for the spring or autumn when the air's a bit cooler, but there's no need to zip the jacket up all the time.
Both of the above jackets can be paired with light-coloured tshirts for a dressed down look that's still sharp. In fact, most leather jackets can be worn with a simple tshirt – they do a good job of making the jacket stand out from the rest of the outfit.
If you want a formal look, simple leather jackets and smart leather blazers (see below left) will pair with a smart shirt and tie. Black blouson jackets (below right) also work very nicely with formal clothing underneath, unzipped down to reveal the knot and top of the tie.
Pair your jacket with jeans and chinos
Most black leather jackets will look great when worn with plain jeans or chinos (ideally pale in colour). An outfit with a black leather jacket and trousers along those lines will look casual, yet stylish and classy.
That being said, some trousers and jeans work better with some jackets than others. The two jackets below, a black B4 flying jacket (left) and a classic Elvis jacket (right), match particularly well with a pair of casual blue jeans, working especially well with darker shades. This dressed-down style feels great and looks awesome.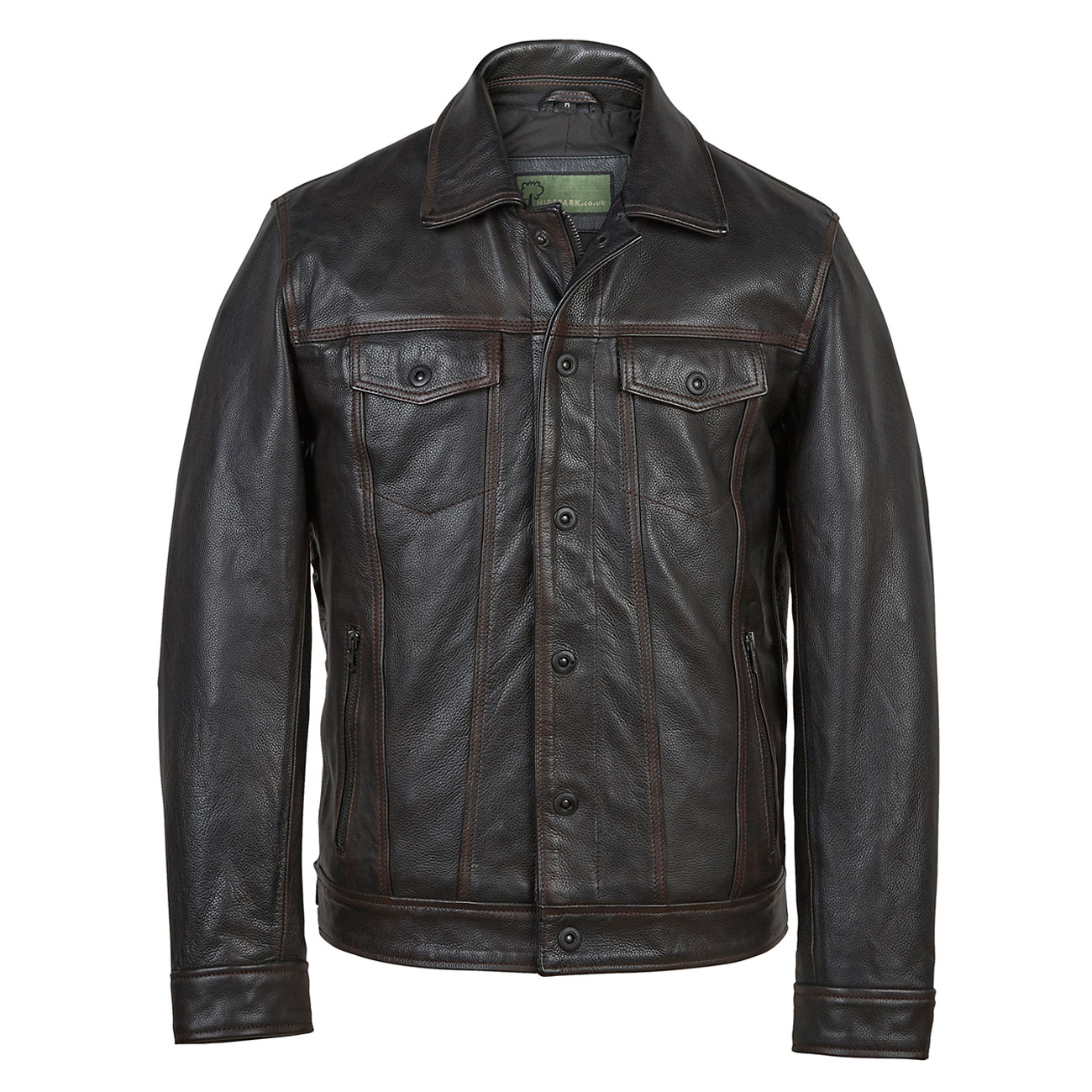 If you're going for a more formal look and you have a jacket along the lines of a 9853 (left) or a John (right), try pairing it with stone-coloured chinos or something along those lines. Dark blue chinos can look good, though they tend to work better with brown or tan jackets.
While leather jackets are rarely going to be in the dress code for a black tie event, wearing them with a sharp pair of trousers is nevertheless a stylish, fashionable look. Pairing the jackets with simple trousers or jeans lets the personality of the leather come through, completing that timeless look.
What shoes should I wear with a leather jacket?
By now, you won't be surprised to hear that black leather jackets tend to look great with just about anything (except maybe sandals). However, depending on your jacket and personal taste some footwear styles will work with your outfit more naturally than others. Safe bets for many jackets are plain black boots or smart-casual shoes.
Pair a classic style like the Trent (below left) or a popular jacket like the Mac (below right) with a pair of black boots for a fantastic overall look. The style of the boots is really down to your personal taste. These jackets are versatile enough to pair well with bigger, lace up boots or with more lightweight slip-ons.
Alternatively, if your prefered style is something more like a blouson (below left) or a blazer (below right), a pair of stylish smart-casual shoes or loafers will look very good. We recommend suede shoes or black loafers if you're looking to dress-up, or something as simple as a plain pair of pumps will complement the overall look if you want something less formal.
Formal leather jacket looks
Black leather jackets are a great asset if you're dressed to impress. If you're looking for a smart outfit to go with a black jacket like a blouson or blazer, a tie and pale-coloured shirt combination will work very well. Add to this smart suede shoes or loafers and a pair of light chinos and you'll be wearing a fresh, stylish outfit.
Casual leather jacket looks
If you want to dress down with something like a black leather biker jacket or leather bomber jacket, you have a lot of options. These classic styles work very well with your favourite clothes – that tshirt that you love and a comfortable pair of jeans. Wear them with clean trainers or black boots and let the timeless style of the jackets carry the outfit like they were designed to.
Somewhere in between
Bomber jackets, bikers, blousons and blazers are all versatile enough to be worn as part of a smart-casual outfit. Try them with casual shirts like oxford or checked flannel (depending on how smart you want the smart-casual to be) and light chinos or simple, dark jeans. Add pumps or another pair of crisp yet comfortable shoes to complete the look.
Shop leather jackets to suit your style
Whether you are looking for a formal look or a casual look, Hidepark has the leather jacket to suit any taste. Our range of men's leather jackets are created with quality in mind. Take a look at our FAQs today if you have any questions, and make sure to keep an eye on our blog for more information and advice.